School Garden Project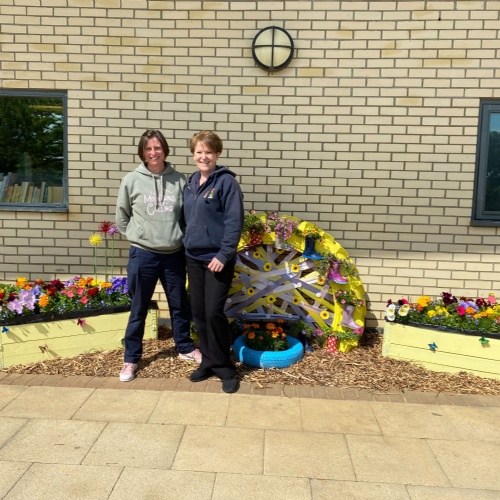 Our School Garden Project has been a huge task over the last weeks, it is the hard work of Kirsty Kemp, Trudy Villa and Michael Bone. The planning, resourcing and making has all been completed by the team in spare hours with the help of gardening club pupils. It has made such an amazing difference, with bright colours and novel planting ideas the comments from the children and adults have been wonderful to hear and created a real buzz around the school.
The children all have their own favourite parts; Oscar G loves the cut outs of Tom and Jerry, and Jessica S talked about the toadstools because they remind her of the fairy books she loves to read. Primrose loves the books near the bench that have been made from bricks, Aggie agreed commenting that "they are my favourite part too." While Isla W said, "I like the tyre with the welly boots and the pretty flowers." So many parts to look at and admire, I personally am looking forward to the sweet peas growing to reveal a floral centrepiece.
This has all been made possible by the hard work of the team here at school, but also the kind donations from members of our community and FORS for resources. We have also had some extra help in the evenings to construct art work but also tidy, weed and add chippings to the existing flower beds. So, a huge thank you to everyone that has been involved in this project, it is fantastic to have so much help
and support from the community so our village school is a reflection of the 'Rendlesham Spirit' and gives our children a sense of place.